Supplier Selection Practices and Procurement Performance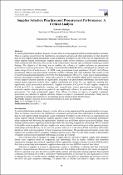 Publisher
European Journal of Business and Management
Abstract
As market globalization quickens, things to consider when selecting suppliers and the potential suppliers increases. There is a serious concern from the practitioners, government agencies and other stakeholders to what should be done to curb supplier related procurement issues. Evaluation of suppliers is one of the ways an organizations can reduce supplier related inefficiencies. Supplier selection yields positive influence to procurement performance when conducted well. However, what puzzles is the relation hasn't been the case as different scholars give mixed findings. The objective of the study was to establish the influence of supplier selection on procurement performance in county governments. The study was anchored on stakeholder theory and adopted the multiple case studies design. Units of analysis were 14 LREB county governments, target population 196 staff: chief officers, procurement officers and procurement committee members. Primary data were collected. Pilot results (n=20) reveal 20 item instrument reliability (α=0.9563). The study finding (n=181 92.3%) results in two retained attitudes (positive and negative) comprising 7 items with a good fit (p<.005). Bivariate ordered probit regression analysis reveals supplier selection adoption are significantly associated with procurement performance and multivariate ordered probit regression analysis show supplier certification =1.07(p=.001) are significant meaning they significantly affect procurement performance. Supplier evaluation =0.3(p=0.179) and supplier comparison =0.04 (p=0.875) are insignificant meaning they insignificantly predict procurement performance. Study concludes supplier selection practices positively and significantly influence the performance of LREB county governments. The study recommends: supply chain officers be trained on aspects of supplier evaluation, government give attention to supplier selection practices to improve procurement performance. Study may be significant to national and county levels in informing policy direction about SCM practices.
Keywords
Supplier selection, Procurement performance, County governments.
,
Supplier selection, Procurement performance, County governments.